The  COAST Project Newsletter is an easy to read 24 page Newsletter that highlights some developments in the subject of sustainable coastal tourism in the global discourse and progress in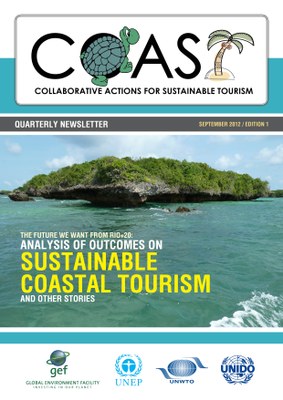 COAST Project implementation.
The September Edition of this Newsletter contains the following stories and articles:
A Foreword by Eduardo Zandri, the UNEP GEF Task Manager
A Cover Story on the Rio+20 Outcomes in relation to Sustainable Coastal Tourism
Information on the COAST Mid Term Review Recommendations and the Revised Project Log Frame
Some News from the COAST Demo Sites in all the nine Project Countries
A picture gallery of the COAST Demo Site activities
A Question & Answer Section with Dr. Hugh Gibbon, the Regional Technical Coordinator of the COAST Project
Analysis Article on Best Available Practices & Technologies in the COAST Project
An Opinion Article on why Knowledge Management is Critical for the success of the COAST Project
Get to know the COAST Project Staff and Country Management Teams
To download the Newsletter Edition here
Please, share with us your feedback on any of these stories. if you want us to follow up on any of these stories, or would wish more information on these articles, please write to the COAST Project's Knowledge Management and Communications Officer on the contacts below.
THE EDITORIAL TEAM - UNIDO COAST PROJECT
Office Number: +254 20 7625286
Cell. Number: +254 722 508010