Practical Examples of BAPs/BATs in the COAST Project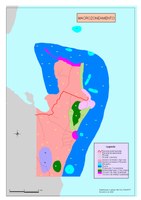 The United Nations and the international community generally define Best Available Practices (BAPs) and Best Available Technologies (BATs) as 'outstanding contributions to improve the living environment'. Indeed, the difference between BAPs and BATs is not always distinct, although BATs have a capital good  and technology transfer component to it, in practice, BATs could form an integral component  of BAPs and vice versa.
For the COAST Project, the following are examples of selected BAPs/BATs for the three thematic areas (Eco-tourism, Reef and Marine Recreation Management, Environmental Management Systems) in the COAST countries.
THEMATIC AREA

COUNTRY

Selected Examples of BAPs and BATs in Country Projects

ECO-TOURISM

Cameroon, Ghana, Gambia, Kenya, Mozambique,   Nigeria, Tanzania

Sustainable Tourism-Eliminating Poverty (ST-EP) Program supported by the United Nations World Tourism Organization (UNWTO).

REEF AND MARINE RECREATION MANAGEMENT

Kenya, Mozambique,   Tanzania

Mapping and demarcation of zones and preparation of coastal zone management plans.

ENVIRONMENTAL MANAGEMENT SYSTEMS

Kenya, Mozambique, Tanzania, Senegal

Applying UNIDO's TEST methodology to the local hotelier sector.  An integrated methodology consisting of: Cleaner Production Assessment (CPA), Environmental Management Accounting (EMA), Environmental Management Systems (EMS), Environmentally Sound Technology (EST) and Corporate Social Responsibility (CSR).

Seychelles

Sustainable Eco-tourism Label.