Gambia: COAST project pave the way for better managing cleanliness in the country
Thursday, November 08, 2012 Hello and a warm welcome to another edition of Environment, your weekly column aimed at bringing environmental issues into the limelight.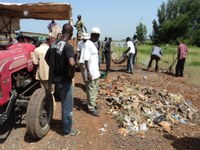 Clean Day
In today's edition we bring you an interview with Mr. Abubacarr Kujabi the Project Demonstration Coordinator  of the COAST Project under the National Environment Agency on their latest intervention in their bid cub the problems of illegal dumping and waste control and management.
The Gambia has joined the international community to celebrate International Coastal Clean up day. This event is observed on the third Saturday of September each year, and this year it was held recently with special focus areas of the following to:-
1.         Remove debris from water bodies including the coastline and beaches
2.         Collect valuable information about debris and type of waste collected
3.         Increase public awareness on the effects of litter and debris on the aquatic ecosystem.
4.         Make positive changes and to promote waste prevention efforts around the coastal environment.
As part of the activities to mark the event, the National Environment Agency in collaboration with coastal communities, local NGOs, Community Based Organizations', Civil society, Security Forces and the Local Municipalities had embarked on clean up exercise along the coastline from Banjul ferry terminal to Kartong fish landing site and also at Barra, Bamba Tenda and Yelli Tenda ferry crossing points in North Bank Region.
According to him, the debris in our coastline if not removed, can be harmful and even fatal to all manners of marine wildlife, can damage our country's economy and even become a human health hazard. The Coastal Cleanup Day is a great way for stakeholders in the coastal zone, families, students, service groups, neighbor to join together, take care of our fragile marine environment, show community support for our shared natural resources, learn about the impacts of marine debris and how we can prevent them, and to have fun.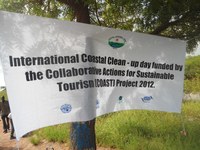 "The main sources of waste along the Gambia coastline apart from the waste generated from the fish processing at landing sites are mainly from passengers using river transportation system (ferries and boats services), frequent Sunday beach parties along the coastline, uncontrolled waste from hoteliers and runoff water during rainy season carrying waste from land to the coastal areas", he added.
Usually wastes generated from these sources are not properly controlled and sometimes not regularly collected thereby causing pollution in our coastline and water bodies.
Noting that, cleanliness of our coast and marine ecosystem will contribute to the health of the people and the environment particularly our wetland ecosystem which supports high biodiversity which we all depend on for our daily livelihood. In addition this important clean up exercise has also strengthened the efforts of the Tourism Sector in their preparation for the 2012/2013 tourist season began in October 2012.
This year's International Coastal Cleanup Day was funded by Collaborative Actions for Sustainable Tourism (COAST) Project.
Mr. Kujabi: highlighted that the COAST Project is a UNEP implemented, Global Environmental Facility (GEF) supported project that is executed by UNIDO in collaboration with UNWTO (UN World Tourism Organization). The project objective is to "demonstrate and support the adoption of best practice approaches for sustainable tourism that reduce the degradation of marine and coastal environments of trans-boundary significance".
The project approach will provide important lessons on how to sustain an emerging and dynamic tourism sector in Africa, while conserving fragile coastal ecosystems within the context of rapidly changing environments and increased international tourism. The Project has demonstration sites in eight African countries, (The Gambia, Senegal, Ghana, Nigeria, Cameroon, Seychelles, Tanzania, Kenya and Mozambique).
The Gambia Ports Authority had also contributed both financially and manpower in observing the day. The support from GPA had further enhanced NEA in mobilizing resources for a better and adequate participation of the public.
For your comments, suggestions and contributions, please contact (00220) 6361340/7142236 or Email: bajgambia2011@yahoo.com
Author: Abdou Rahman Sallah