Tourists sight rare turtle hatchings
Sea turtles are rare and endangered marine species.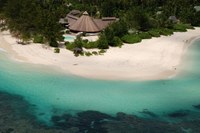 By PHILIP MWAKIO
Tourists, hotel staff and conservationists got a rare surprise when 88 sea turtle hatchlings were released into the open sea at the scenic Mombasa Serena Beach Resort and Spa on Sunday. Sea turtles are rare and endangered marine species.
The beach frontage is a traditional sea turtle nesting area where giant turtle species come to lay eggs.
An exited British family on holiday, led by John Black from Bristol, said they were extremely happy to have taken part in closely monitoring the turtles since they laid eggs, which were put in special cages before hatching.
The Blacks pledged to frequent the scene to monitor regular turtle hatchings.
"We have experienced this rare spectacle which has made us appreciate responsible sustainable tourism in real practise," said Mr Black, a business consultant, who is accompanied on this holiday by his wife Dee, son Paul and daughter-in-law Sue.
According to Serena Hotel Deputy General Manager Edwin Chemisto, the hotel has taken nature and marine conservation seriously and has employed a full-time naturalist to impart special knowledge and skills on key conservation issues.